Further reading:

Press release 03/04/03 >>view
Background paper
>>view
---
Court permits Orange 3G to build a tower on residential roof without owner's permission
>>AFR 3/4/03

---
Alan Fairley's review of the Orange Environmental Impact Statement >>view

---
Georges River Environmental Alliance's review of the Orange EIS >>view

---
Electromagnetic Radiation Association of Australia >>view

---
Environmental and heritage value of Oatley Park >>view

---
Scott Dawkins wrote a powerful letter published in Saturday Telegraph & The Leader >>view


Reasons Oatley Park is the wrong place for a mobile phone tower:
EMR - Electro Magnetic Radiation
Hutchison's Electromagnetic radiation projection for Oatley
>>view larger image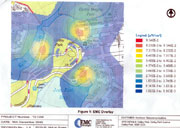 The following resolutions were adopted unanimously at the public meeting 16 Dec:
We;
1) Unequivocally reject plans to install a mobile phone antennae/s on any existing structures, the construction of a new tower for that purpose, and any and all associated works in Oatley Park;

2) Call on Hurstville City Council to immediately:
a. Pursue legal action to prevent the installation of antennas in Oatley Park,
b. Commence legislative reform that will preserve and protect the heritage and environmental assets of Oatley Park and foreshore from any and all commercial development, and
c. Advise the Telecommunications Ombudsman of the nature and extent of the objections to the installation of antennas in Oatley Park;

3) Request Hutchison Telecoms:
a. Defer to community opinion that antennas not be sited in Oatley Park,
b. Explain to the community and Council, with reference to the legislation, why this and any alternate proposals are "low impact facilities", and
c. As an industry representative on the Working Committee Radio and Environment Reference Panel for the ACIF Industry Code, recognise it's moral obligation for its immediate compliance with all section of the code, including: Sections 5 & 7 even though they are not mandatory until April 2003.

Our petition, now with over 1,000 signatures, states:
We the undersigned advise you that we strongly object to Hutchison Telecoms proposal to install a 21M high 3G antenna on the oval at Oatley Park and nearby 7.2msq equipment shelter, considering:

1) Oatley Park contains rare and endangered species, aboriginal artefacts, is a pristine bush reserve and consequently, is an extremely important, environmentally sensitive reserve, which must be protected from degradation.

2) The long-term health implications from EMR (electromagnetic radiation) emission effects are unknown. We don't want to subject local residents, park users and our children at Oatley West Public School, to unknown and unqualified risks.

3) Under Federal Legislation we believe that Hutchison Telecoms has not proved that this proposal at Oatley Park, to be a "Low Impact Facility under the Telecommunications (Low-impact Facilities) Determination 1997, or Amendment 1 1999 to this act, or met the criteria in the Australian Communications Industry Forum - Industry Code.

In light of these points we the undersigned believe that your proposal to locate a 21M high 3G antenna and 7.2msq equipment shelter should be relocated to a more suitable site other than Oatley Park.